Peak Cold 2-Door Stainless Steel Commercial Freezer
What is the horsepower on the CFD-2FF model? What is compressor size? What is shipping cost to RI? Where do we get service in RI?

The 2 door stainless steel commercial freezer has a 1 HP compressor. Shipping on all of our products is free, nationwide. If you experience any issues with your freezer, contact us and we will will arrange service using a local refrigeration technician in your area.

I would like to order additional shelving for this freezer. (2-Door Stainless Steel Commercial Freezer)

We do have shelves available for several of our refrigerators and freezers. Please contact us at info@ironmountainrefrigeration.com or use our contact form and we can send you an invoice for extra shelves or parts using your email address.

How long is the cord on this unit?

The cord on this freezer is 95" long.

Does the cord provided plug into a standard household outlet? And do you offer full warranty for residential garage area? Will your delivery bring it into the garage and remove packaging and plug in? Thank you

This commercial freezer uses a 20 amp plug and should have a dedicated outlet.  Free curbside delivery with lift gate and appointment is included in the price, however if you need additional service, please give us a call at 833-734-8880 to discuss your specific needs. White glove delivery can be arranged in most areas through the freight carrier, and we are able to request a price quote with your delivery details.

If its no-name how do I go about getting parts down the road?

We stock parts for the units we sell in our warehouse. You will also see the same models for sale under different brand names, using the same manufacturer. Most of the parts are universal and an equivalent part is available online.

What is the interior dimensions of this unit?

The interior dimensions of our 2-door stainless steel commercial freezer are 27 ¼" D x 49 ½" W x 53 ¾" H.

WHAT IS THE BRAND NAME ON THESE

We import these directly from the manufacturer and do not brand them, helping us keep our prices lower.
---
Other Recommended Equipment
---
Customer Reviews
09/01/2020
Lisa B.
United States
We decided to get rid of 3 freezers and consolidate to one commercial freezer. After researching everything on the market we called Oron Mountain. The staff were very friendly but more importantly informed and answered any and all questions. Very quick shipping which was included in the price. No regrets at all!!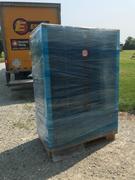 08/15/2020
Anonymous
United States
08/09/2020
Carolyn K.
United States
Great freezer
Love this freezer. We bought for personal use. Huge. Holds 1350 lbs beef. 2 hogs and plenty room for my garden veg
08/08/2020
Wade K.
United States
Fantastic
I have ordered a few refrigerators and freezers in my lifetime but I've never seen one that was packed as good as the iron Mountain freezer they are the only ones that I will deal with ever again
07/27/2020
Kelley T.
United States
Great service!!
We ordered a freezer... it was wonderful! Unfortunately we had measured wrong they made the return very easy and reasonable. Hope to have a reason to do business with them again.