Procool Narrow Upright Beverage Cooler
$1,045.00
In stock
Procool NarrowUpright Beverage Cooler

Procool Commercial Beverage Cooler Details:
Dimensions: 78″ H X 17.7″ W X 22.6″ D
Capacity: 9.4 Cubic Feet
Temperature Range: 35-46°F
Model: CSL-280
Voltage: 115/60/1
Amps: 1.8
Narrow Single Door Upright Cooler
This Procool narrow beverage display cooler features a commercial grade compressor for high performance.  The dynamic cooling system provides fast and even cooling and condensation drains into a self evaporating water tray that does not need to be emptied. A vertical LED interior light illuminates the products on display. The coated wire shelves are adjustable to fit products of various sizes. The glass door is lockable and self closing. The outer tempered glass provides an additional safety measure. This display cooler can be used to display canned or packaged products in key locations in your business. The universal design fits into any setting easily and moves easily on included casters.
Customize the lighted canopy
prior to shipping by choosing one of four designs or your own logo. Use this merchandiser to maximize impulse buys or highlight new products!
Single Door Upright Beverage Cooler 


Your purchase includes a
1 Year Full Parts and Labor Warranty
, an
additional 2 Year Part Supply
Warranty
, and
another 2 Year Part warranty on the Compressor!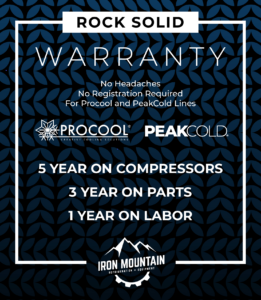 For warranty service, contact
service@ironmountainrefrigeration.com
or call 833-734-8880. Your warranty...
is not supported outside the continental United States
begins on the date of purchase and are not transferable to other parties.
does not cover damage due to misuse, abuse, accidents, alterations or improper installation.
does not cover normal wear and tear or cosmetic imperfections not reported at delivery.
does not cover the loss of product or income due to equipment malfunction.
*Placing equipment outdoors, exposure to extreme temperatures, using it to store hazardous materials or modifying the equipment in any way voids all warranties.
Food Truck or Trailer Use Warranty:
Customers installing equipment in a food truck or trailer shall receive 30 days of replacement warranty coverage, regardless of the standard coverage period.
Current warranty agreement applies to purchases after October 1, 2021. Please contact us for purchases made prior to this date.
All new refrigeration units stocked in our warehouse include free curbside freight delivery with appointments and lift gates as needed. (Shipments to Washington and Oregon are currently subject to a surcharge and must be processed by phone.)  Please see our
shipping page
for details.
Parts and Shelves
Extra shelves and parts are shipped via FedEx, UPS or USPS with weight based flat fees added at checkout.
Special Order Products
Certain products we offer are shipped directly from the manufacturer. These products have shipping times that vary based on availability. If you would like an estimate for delivery on any other special order products, please
contact us
and we will provide one.