Valentine's Day is just around the corner and everyone's mind is buzzing with gift ideas for their special ones. No wonder, it is a day for expressing your love towards your special person and the best way to set up the mood for a smoochy, cuddly Valentine's Day is through a nice gift.
Although material gifts are just tokens of appreciation and can't replace one's love, they do add to the grandeur of your Valentine's Day. They are a symbol of love and an appropriate way to show your gratitude. So, here are some gift ideas for this Valentine's Day.
A Portable Garden
Just as stars and Moon speak the language of love, so do plants. With the Back to the Roots Kitchen Herb Garden, you can symbolize your love with a beautiful windowsill garden setup. It would be a living souvenir of your endless love for your partner.
These need no transplanting and come with organic soil and seeds (thus you need not worry about intoxicants obstructing growth). The bonus is a moisture-balancing biochar that prevents your plants from drying out and falling. All you need to do is:
find a place with sunlight
water your little seedlings regularly
These are available year-round in "ready to gift" packages as a living reminder of your blossoming love. Each gardening kit contains 3 16-ounce cans with mint, basil, and cilantro to fill the home with enchanting scents.
Valentine Cookies
It is often said that love can be baked too and what would be a better way to express your love than some perfect cookies baked with love. While strolling in the cookie aisle, you can find a lot of options to meet your gift requirements. From cookie cakes and chocolate-covered cookies to milk cookies, the list is endless. They come in various shapes and sizes — ball-shaped to heart-shaped. If you find yourself shopping last minute, check out your local bakery or confectionary.
To add a personal touch, you can also bake these cookies yourself. In fact, you can use different stencils to get cookies in all shapes. While doing so, you can add personalized messages inside these cookies, giving them a personal touch of charm. Cake pops are yet another savory food that catches the eye of experienced gourmets. Those one have an enticing appearance and taste even better.

If you do not wish to settle for just cookies, you can opt for an entire basket of happiness, with several cookies, chocolates, and other snacks for your loved ones. You can also customize these baskets according to your preferences and budget. A hamper of wines and beers can also be a unique recourse – Be sure to check out some of our wine coolers for storing that wine!
Classic Chocolates
If you cannot find anything that suits your fancy, you can always fall back on chocolates and it won't disappoint you. With time, chocolates have also gotten better and now there is a variety of options available. You can get your chocolate boxes customized to your own liking and perhaps add an intimate message for your loved ones to go with the sumptuous chocolates.
Instead of gifting a box of a single variety of chocolate, you can assemble a box full of your partner's favorite chocolates. Using special Valentine's Day boxes instead of regular chocolate boxes adds to the intimacy of the gift. You can perhaps make an entire assortment of chocolates, along with handwritten letters, which is a perfect compliment to tasty treats.
Chocolate-covered strawberries are yet another option if you do want to rely on chocolates alone. If you're ready to go the extra mile to impress your loved one, you can even gift your partner with popcorn-chocolate covered strawberries. There are endless options at your disposal, once you decide that chocolates are your choice for the Valentine's Day gift.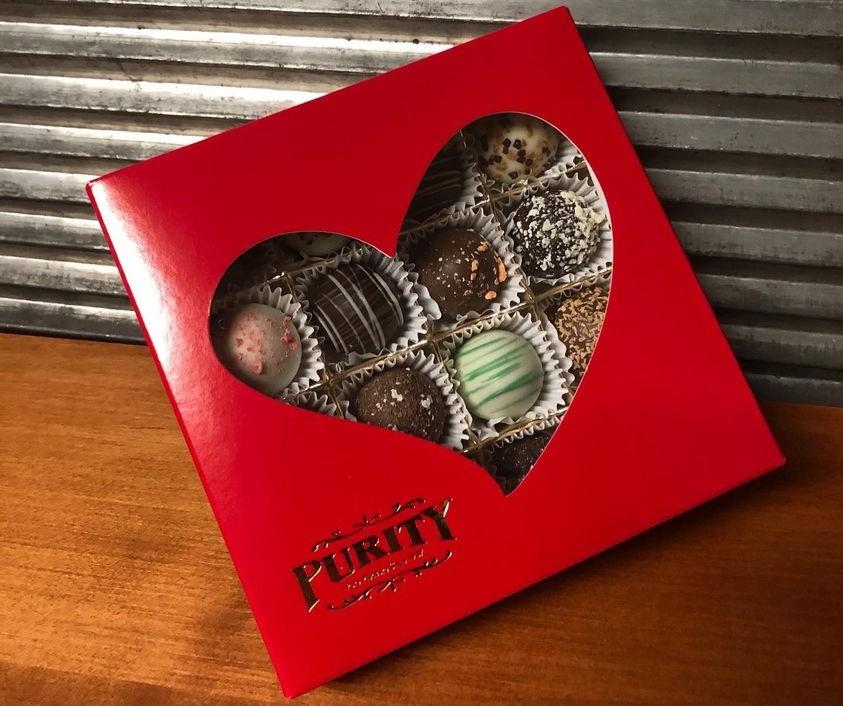 Handmade Candles
It is often said that the best gifts are ones that are made with love and serve as a strong symbol. In that department, nothing beats handmade candles. They symbolize the light of your love and are indeed a romantic and intimate gesture towards your partner.
Candles are actually very easy to make. You would just need a small glass (you can choose any bar glass as well), a wick, some wax, and essential oil.
Melt the wax in a container. It is preferable if it is not in direct contact with the flame. You can add some old wax crayons to impart color to your wax.
Then, add two teaspoons of essential oil to it. This imparts your candle a soothing aroma
Meanwhile, place a candle wick in the middle of your glass and pour the molten wax in it and let it cool down. After that, remove the extra wick remaining, if any.
There you have it, your personalized handmade aromatic candle.
Extra-terrestrial gifts
Lovers often fantasize about the sky, stars, and the moon in the quest of wooing their partners. Well, you can now put the name of your loved one on the moon itself. In short, you can purchase a piece of land on the moon!
As nerdy as it may sound, it is romantic at the same time. Lunarland is one of the first companies that is authorized to sell extra-terrestrial properties. You get a customized deed with the name of your loved one printed on it. Along with it, you also get a map, a pledge and registration with the International Association Of Human Planetary Exploration (IAOHPE).
However, if you want to go all Sheldon Cooper on your SO, you could go for a constellation map. These maps can be placed on your room wall to glow in the dark. Various constellations are etched on these maps, making them the perfect backdrop to fall asleep to in the cozy embrace of your loved one.
Final Thoughts
You now have at least a glimpse of what to gift your partner for Valentine's Day and make it a memorable occasion. Which one you go for depends on the mood you're trying to set. Handmade candles hold a personal touch and so do cookies.
The chocolates are a classical gift for any relationship whereas the portable garden is a thoughtful one for those with a nurturing spirit. Still, a piece of land on the moon is as extravagant as it gets. You can choose one depending on your budget and your relationship needs.
Browse all our commercial refrigeration equipment.
8555 194th Ave
Bristol, Wisconsin 53104
(833) 734-8880
Follow Us on Social Media!