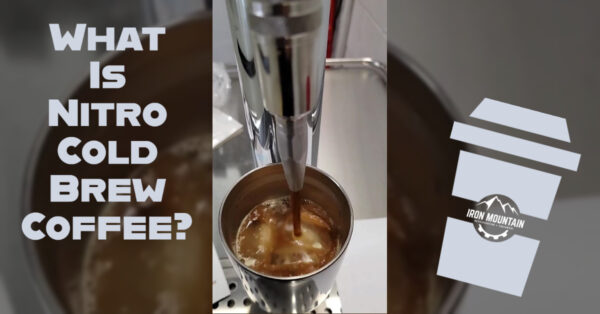 Most people enjoy drinking a cup of java in the morning or during the day as a pick me up. While drip coffee, brewed coffee and espresso are commonplace, nitro coffee is becoming another popular option to satisfy one's caffeine fix. What is nitro cold brew? This is cold brew coffee that is infused with nitrogen gas — and yes, it's safe to drink. Nitro cold brew is often compared to foamy, thick draft beers because of its silkiness, creaminess and dark color. It tastes decadent, frothy and subtly sweet, and is less acidic than traditional black coffee.
Individuals who prefer creative coffee drinks would enjoy nitro cold brew, as well as those who enjoy coffee that's less bitter and acidic. Typically, no sugar or cream is needed. Moreover, many popular coffee shops now feature nitro cold brew on tap, including Starbucks. This could be a good product for your business because it can draw in more customers, especially those who enjoy unique coffee beverages as well as drinks with more caffeine.
Moreover, it could be said that nitro cold brew is healthier than regular coffee. This is because it's naturally sweet without the use of sugar or creamer. It's also lower in calories compared to a latte or flavored coffee.
How Is Nitro Cold Brew Made?
A food scientist named Nate Armbrust created nitro cold brew. He was inspired by beer brewers who often add nitrogen or carbon dioxide to beer to create fizzy, alcoholic drinks. He applied the same science, but to coffee.
This type of coffee is made with the infusion of nitrogen gas. It begins as a regular cold brew coffee. In fact, the coffee grounds are usually steeped in cold water for a few hours. Then, the coffee is infused with nitrogen gas before it's poured into a glass. This is achieved through special equipment.
Basically, the nitrogen creates tiny bubbles in the mixture, which provide the full-bodied, velvety smooth, creamy texture for which nitro cold brew is known. Overall, this type of coffee is served cold from the tap or an infusion kettle.
What Equipment Do You Need to Make Nitro Cold Brew?
To create this coffee, specialty equipment is needed, such as a nitro coffee conversion kit. This kit includes a kegerator single nitro tap tower, a nitrogen pressure regulator, nitrogen gas tank and Cornelius keg. The chrome-plated brass tower is ideal for housing and dispensing nitro cold brew. It includes a faucet as well as a 5-inch hose and keg couplers.
A PeakCold Single Tap Nitro Coffee Kegerator can also come in handy. This commercial-grade piece includes a 5-gallon keg and 20 cubic foot nitrogen tank that's contained within a cabinet. The nitrogen gas tank can be filled at your local gas distributor.
Why Should You Serve Nitro Cold Brew?
There are many reasons why it may be beneficial to add nitro cold brew to your product line. For instance, it's a popular caffeinated beverage that can help draw more customers to your business. It's also healthier than traditional drip coffee, as it doesn't need cream and sugar due to its sweet taste. Best of all, nitro cold brew is easy to make, and you can sell it for a premium.
Hopefully, we've answered your question of, "What is nitro cold brew?" If you're interested in adding nitro cold brew to your product line, take a look at our specialty products. You can also view all products to browse our wide range of commercial refrigeration equipment.
To learn more about us and our capabilities, get in touch with us today!